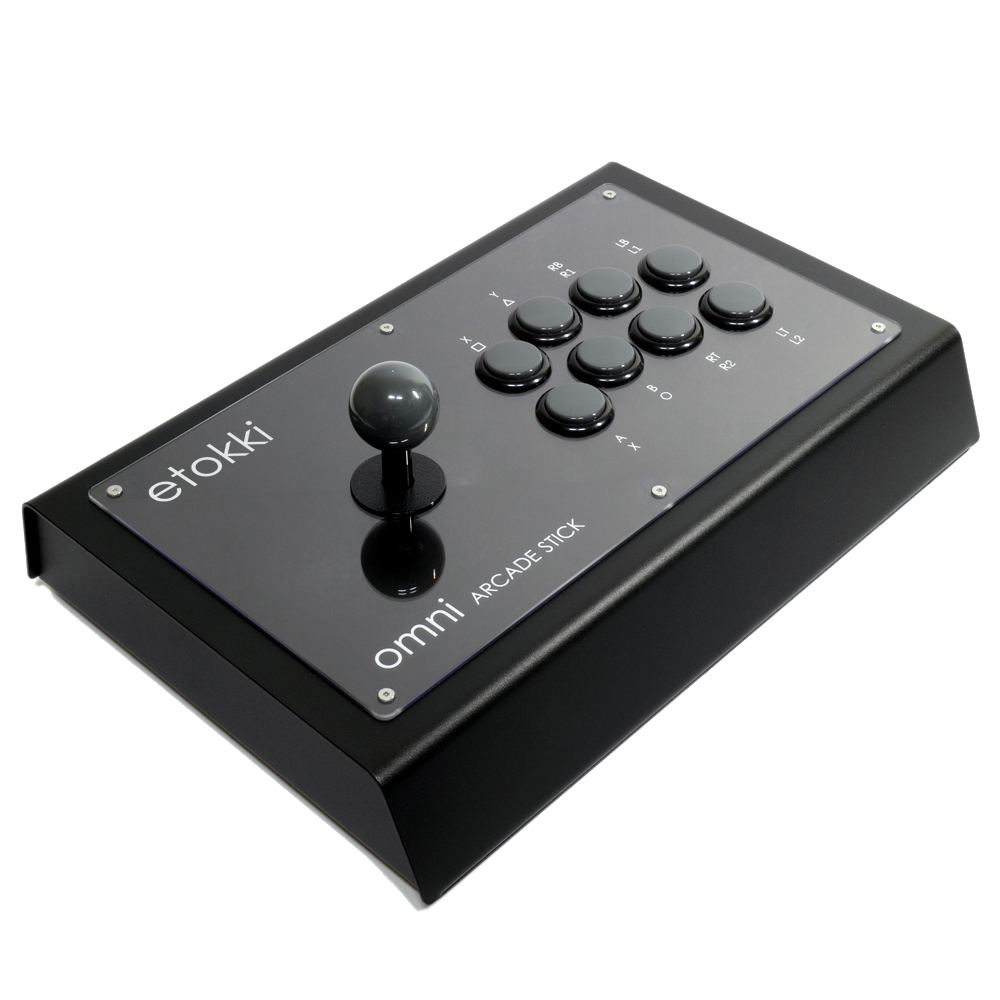 Omni Arcade Stick has been created by Etokki to meet the intricate needs and preferences of both pro gamers and casual gamers.
Since its creation, Omni Arcade Sticks has been the choice of controller by several famous professional players to win multiple world championships and major tournaments in Street Fighter, Tekken, and more throughout the years.

The Sanwa edition comes equipped with popular Sanwa JLF joystick and OBSF-30 buttons from Sanwa Denshi of Japan, accurately replicating the authentic Japanese arcade experience.
Compatibility:
Multi-console compatibility:

PS4

,

PS3

, and

PC

native support in a single package for ultimate convenience

No 8-minute timeout issue on PS4

(

Update for latest firmware

)

Features Touch Pad button function on PS4


X-Input compatible on PC
Automatic System Detection

Omni Arcade Stick comes with automatic system detection for all 3 systems it supports; PS4, PS3, and PC. Simply plug and play.
Case features:
Heavy-duty steel body frame with smooth powder coat finish for solid and comfortable gameplay

Arcade perfect joystick & button layout as found on Namco's Noir Tekken arcade cabinets

Universal joystick mount design accepts joysticks from Sanwa, Seimitsu, Myoungshin, Crown and more

Flexible joystick/button combination for customization

Smooth curved edges for relaxing palm rest

Anti-static design for ESD protection

High quality PCV rubber feet provide firm grip for stable gameplay and leaves no rubber stains
Plexi Top Cover:
Removable clear plexi glass cover makes custom art projects easier than ever

Rounded edges provide smooth and comfortable palm rest

Six stainless bolts fitted flush with the plexi surface

provide smooth finish and

prevent sweat-induced rust
Wiring:
Ease of wiring with quick disconnects and snap-on connectors

No soldering necessary to change parts or cables
Revision 6 Features:

This is the 6th revision, which saw some major and minor improvements over the previous generation.

More reliable USB cable connection to the PCB

Easy USB cable customizations and replacements are now possible due to the adaptation of industry standard USB BM connector

All internal wiring are now easily removable and replaceable due to the expanded modular design


Elegant new box design
Joystick: Sanwa JLF-TP-8YT-SK w/ LB-35 DARK HAI (GREY) Ball Top
Face Buttons: Sanwa OBSF-30 DARK HAI (GREY)
Back Buttons: Sanwa OBSF-24 YELLOW
Case Color: BLACK
Dimensions: 35cm x 24cm x 6cm (not including joystick handle)
Weight: 3.3kg
Cable Length: 3m
Custom Art

You can use the following template to create your own custom artwork for your Omni Arcade Stick!

Omni Arcade Stick artwork template (.psd format) *template provided for DIY usage only. no customization services offered. Rev3, Rev4, Rev5, and Rev6 (PS4) all use the identical artwork templates
Omni Arcade Stick -Sanwa Edition-
Brand: eTokki
Product Code: Omni Sanwa Edition PS4
Availability: Out Of Stock
Related Products